White Date site for Trad Men… "nothing overtly sexual… seeking a white woman to put on a pedestal" — Talia Lavin
Talia Lavin has written for numerous far-left publications as a "free lance writer."  The list includes, The New Yorker, New Republic, NY Times Book Review, Washington Post and the Village Voice.
Her latest piece was published in The Nation, a centuries old Marxist periodical, Oct. 9,
Going Undercover on a Racist (sic) White Date Site
Whitedate.net looks innocuous at first: Its home page could be cribbed from Ashley Madison, or FarmersOnly, or any number of niche dating sites. A stock-photo, glossy-lipped blonde smiles into her beau's suited shoulder, lowering her lashes demurely; a slogan reads, "We know where we come from, where we belong, and wish to share the feeling with like-minded partners."
A note of particular interest to readers of this website, Lavin gave some background on the founding of the site:
Liv Heide… wants to encourage "woke white people" to "look at humans as animal breeders look at animals."
Lavin created a fake persona to attract white male suitors.  And she even admits she used a fake photo.
For her image, I found a social-media account belonging to a European hunting enthusiast with long, strawberry-blond hair. She wore camo, a girlish smile…
[On Telegram] They were having a discussion "about whether I was too ugly to rape"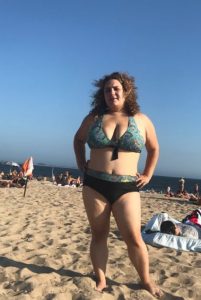 Lavin outlines a number of offers she received.  She goes into bromides about the site being "white supremacist," and even tolerant of "Nazis."  But then, Lavin stumbles onto an uncomfortable fact, that might not fit her narrative.  Most of her suitors were not sex-crazed internet geeks. Rather, they were traditionalist males.
Their approaches were rarely overtly sexual. Users seemed to be seeking a white woman to put on a pedestal…
She also quotes the website:
WhiteDate," the page begins. "So gentlemen, don't be shy and invite white ladies in real life who display trad potential." ("Trad" is short for "traditional"…
Lavin poses as a fake pretty blonde white girl on other forums.  But it doesn't always turn out the way she plans.
From JTA.org, Oct. 14,
Talia Lavin dives into the most hateful corners of the internet
Describing one incident that wasn't a positive during her undercover investigations, she let's out the men were having a discussion about her…
 [I was] "on Telegram and found that it was an entire discussion about whether I was too ugly to rape."
Lavin, who is a self-described, Lord of the Rings geek, has a new book out, "Culture Warlords: My Journey into the Dark Web of White Supremacy".
Editor's note – We reached out to Lavin for a couple comments. But as of this writing we have not heard back.  And just for the record, the editor of this website Subspecieist.com is a Jew.
UPDATE! Talia Lavin has taken her gig to Subsstack.com.  Many conservative and libertarian journalists write at Substack including friend of this site Dr. Noah Carl, and Razib Khan, right-leaning paleo-anthropologist and business partner of Spencer Wells.
Lavin has now taken up the cause of transexuals in addition to her crusade against perceived racists in Alt Right on the internet.
According to libertarian/conservative leaning Twitchy.com, Oct. 8,
Disgraced former fact-checker Talia Lavin hopes to get liberal journo Jesse Singal booted from Substack, even if it means having to defame him
she recently took her act to Substack, which also happens to be a platform where pRoBLeMatIC liberal journalist Jesse Singal publishes his own work.
And, as a new Substack writer, it's Lavin's responsibility to use her position to try to make sure that Singal gets iced out.
Singal responded:
I think that @chick_in_kiev, most famous for having to resign from a fact-checking job at the New Yorker for falsely accusing a disabled veteran of being a neo-Nazi, should just screenshot anything I've said, anywhere, that warrants me being kicked off of Substack… Imagine not knowing shit about your purported area of expertise, misidentifying a tattoo, calling an innocent man a neo-Nazi with the weight of the New Yorker behind you, and NOT reflecting on that for at least a litle while — just getting right back on your moral high horse.